Field Guide to the Kokoda Track—Errata
First Edition (ISBN 9780977570409)
Revised Edition (Second Edition ISBN 9780977570416)
First edition Page 186: Ioribaiwa Ridge 14–15 Sep 1942. Corrected in second edition with new map on page 187.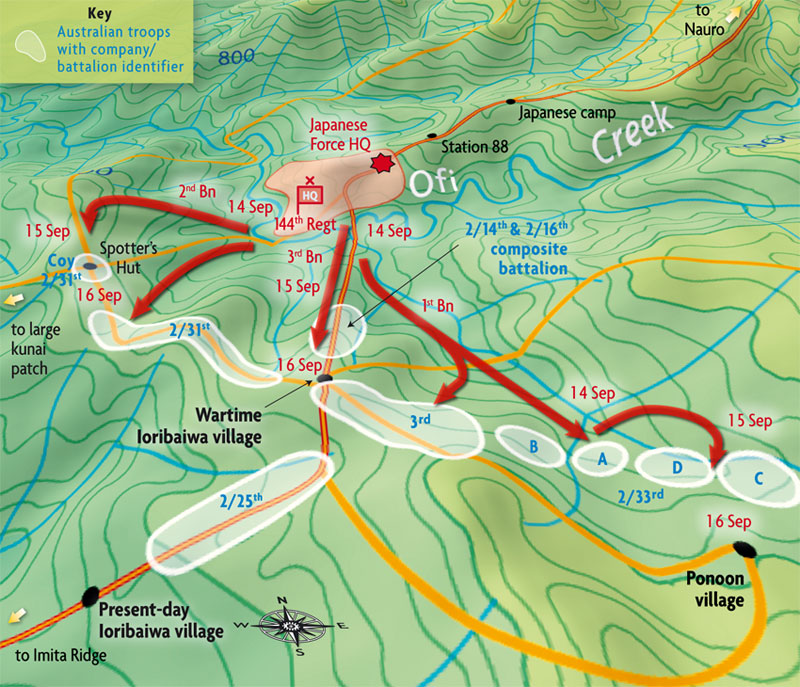 First Edition Page 482: The heading on this page should read: The Australian Advance, December 1942.
First Edition Page 215: No 6 in the photo is George Puxley.
First and Second Editions Page 275: The date of the Australian War Memorial photograph P02423.014 should be 22 November 1942 or later.
The photo shows in the background an inverted twin-engine aircraft (Ford Tri-motor), and in the right foreground, a bogged single-engine aircraft. After further research, including recent advice from a veteran, it was discovered that the photo was taken in November 1942 (not October) and that the bogged aircraft is possibly not the type as stated.
The AWM attributes the date of the photo as 22 October 1942 and categorises the bogged aircraft as a Stinson Reliant. While the RAAF museum website advises an impressed Ford Tri-motor, A45-1 from 33 Squadron (RAAF), crashed at Myola on 24 November 1942, the pilot of the Tri-motor, Frederick Thomas (Tommy) O'Dea's RAAF discharge papers from Sep 1943 record the date of his accident as 22 November 1942. Therefore, we believe the photo would have been taken on, or after, this date.
The bogged aircraft is probably not a Stinson Reliant, but one of the USAAF O-49 Stinson (Vultee) Vigilants operated by 33 SQN during the period. Throughout their time at 33SQN, these aircraft maintained their USAAF markings and callsigns. Their serial numbers confirm that these two aircraft were not the original Vigilant O-49 model but the O-49A variant (The O stood for Observation). The later O-49A was lengthened in the fuselage by an extra 13 inches and was slightly slower. What became of these two aircraft is unknown.
While the Vigilant was originally designed by the Stinson Aircraft Corporation, by August 1940, Vultee Aircraft Corporation had assimilated Stinson. Unfortunately the Unit History Sheets for 33 Squadron are missing from the National Archives for the period Oct to Dec 1942. However, for January 1943, the Unit History Sheets show that 33 Squadron personnel flew multiple sorties of a Vultee Vigilant (O-49 119050) from Berry Drome into Myola and return in support of 15RSU (Repair and Salvage unit). Until 21 January 1943, these flights were flown by 37520 Pilot Officer Collins Lancellot Dangerfield (promoted from W/O 1 Nov 1942), who survived the war exiting the RAAF on 26 Jan 1948 as a Flight Lieutenant. A new 33SQN crew operates a Vigilant flight into Myola on 26 Jan 1943, when a ferry crew flies from Port Moresby (Berry Drome) to Myola in a Vigilant (119050) and recovers Vultee Vigilant (118959) from Myola to Berry Drome. It would appear Vigilant (118959) was not airworthy at Myola due to the incident that occurred on 4 Dec 1942 at Myola.
Thanks to 'Wynnum' from www.adf-serials.com for assistance in identifying the bogged aircraft, the unit operating them, and possible crew. However, if the bogged aircraft is a Stinson Reliant, it would be a SR6 'Straight Wing' model with dual wing struts. The last of these models were manufactured in 1935. All subsequent models were 'gull wings' with a single wing strut.
Second Edition Page 308: Pseudonym (AKA) issue. Phillip P FOSTER VX80009 is a pseudonym. Government records have been updated to reflect the following soldier's birth surname—REANEY. Phillip Reaney had a second svc number: N171242. It would appear that he had an elder brother Justin Warwick REANEY who served. His address when he signed up at Dundas NSW may have been a Victorian address. His nok was from Longueville in NSW.
Second Edition Page 432: Haddy's Village has a revised position compared to its position on page 432 of the Field Guide's revised edition. This revision has come about through the digital overlaying over satellite imagery of recently accessed 21 Brigade and 25 Brigade sketch maps. This research shows that Haddy's Village is across (NW) of the creek at the 2 km position NW of Gona (i.e. closer to Gona). The currently marked Haddy's Village was the village referred to as 'Gona 2'. Two other small villages (Halwasusu and Jinaga) also existed between Haddy's village and Gona.