Field Guide to the Kokoda Track (4e)
The story of Kokoda—the heroic defence of our nation against a powerful foreign invader—is finally gaining its rightful place at the forefront of Australians' consciousness. For those wishing to understand the history of the Kokoda Track, the book will be of great interest. For those intending to undertake the gruelling trek, it is essential reading. Includes a waterproof trek map.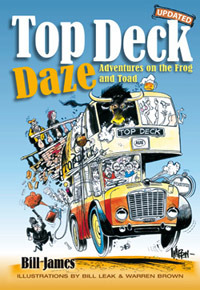 Top Deck Daze
In Top Deck Daze, Bill James tells the hilarious, true story of how Graham 'Screw' Turner establishes a bus touring company using old converted double-decker buses. From humble beginnings in 1973 London, Screw, together with a gang of colonial larrikins, builds a 100-strong fleet of 'deckers'. Follow the crew members as they lead their unsuspecting punters on riotous escapades.

Now available as an ebook!